November 27, 2017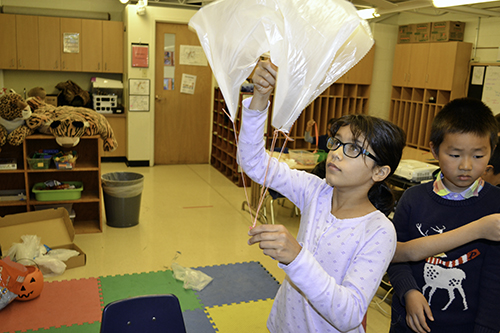 A student prepares her parachute for launch at IAO's After School Enrichment Program at Yankee Ridge Elementary School
Know what thrust is? Lift? How about Drag? A group of 15 or so students at Yankee Ridge Elementary School now know a bit more about these forces that keep aircraft aloft, thanks to several Illinois students in Aerospace Engineering. For four Wednesdays in a row (from October 18th through November 8th), these members of Illini Aerospace Outreachdropped by the After-School Enrichment Program at Yankee Ridge to impart some of their knowledge about flight to the students.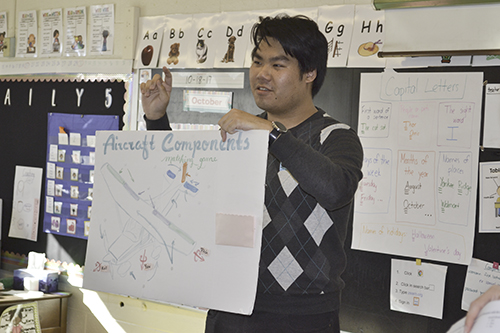 An IAO member instructs Yankee Ridge students on Aircraft Components
In each of the four weeks, the excited K–5th grade students did a hands-on activity during which they built a different machine (week one: a glider; week two: a helicopter; week three: a parachute; and week four: a wind turbine) while also learning a bit about the forces (thrust, lift, drag, and weight [gravity + mass]) that act upon these objects, causing them to fly—or, crash (let's face it, these are elementary students)—or in the case of the turbine, to turn and create energy…. READ MORE
October 9, 2017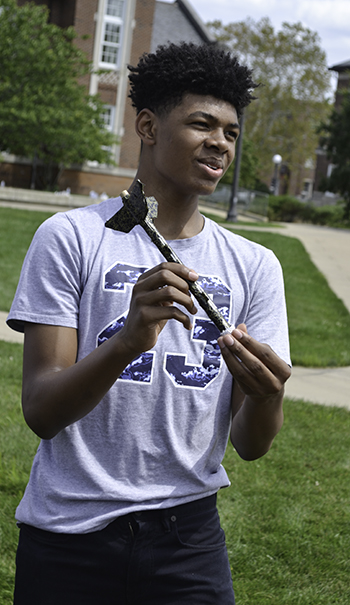 A UHS student hopes his rocket will fly the highest on Bardeen Quad
Amidst cheering, laughter, and lots of trash talking, the 27 Urbana High School (UHS) student athletes at I-STEM's first-ever, multidisciplinary summer camp were attempting to launch (some successfully, some not so successfully) the balsa wood gliders and model rockets they had built. It was Aerospace Day on Monday, August 14. Students had learned some of the engineering and physics behind how airplanes and rockets fly: via several brief lectures, demonstrations, tours, and lots of hands-on activities, the students had learned about flight mechanics and jet engines, the basics of rocketry, and experienced in the wind tunnel how the aerodynamics of various shapes are tested. Then, after designing and building their masterpieces, they came to the high point of the day—a chance to attempt to launch their aircraft.
The day began with a brief introduction about Aerospace Engineering from Bliss Professor and Department Head Philippe Geubelle, then a couple of Aerospace grad students shared about current research on the shape of airplanes and how to improve rockets…. READ MORE
September 12, 2017
From August 7–18, twenty-seven Urbana High School (UHS) athletes, mostly underrepresented minorities, participated in the first-ever I-STEM Summer Camp. The goals of this multidisciplinary summer program were to 1) expose participants to various STEM fields so they know what their options are when choosing their career/ college path; 2) to build teamwork and lab skills in different STEM disciplines; and 3) to allow students to experience what STEM research is about. Ten different STEM departments and units on campus were each responsible for one day of activities during the two-week camp.
…  READ MORE, excerpt about IAO below:
Aerospace Engineering. On Monday, August 14, I-STEM campers learned a bit about the engineering and physics behind how airplanes and rockets fly courtesy of the Illini Aerospace Outreach, Aerospace Engineering's student organization, who organized the event. The high schoolers learned about flight mechanics and jet engines, got a demonstration of the wind tunnel, learned rocketry basics, then designed, built, and got to launch balsa wood gliders and model rockets they built.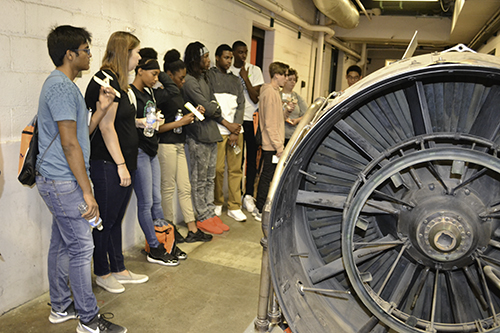 During a tour of the Aerospace Engineering Department, I-STEM campers and mentors view a Rolls Royce rocket engine housed in basement of Talbot Lab.
Elle Wroblewski, an Aerospace Ph.D. student who helped with the camp shares why events like the camp are important for high school students.
"When I was in high school," she explains, "my impression of engineering was only based off of what older people would tell me; I didn't have any first-hand experiences as to what that meant. An event like this shows students more in depth and gives them a better grasp as to what engineering is and shows them a practical application in math and science, whereas beforehand, I feel like it's a little more theoretical, or it's a bit more science fiction based."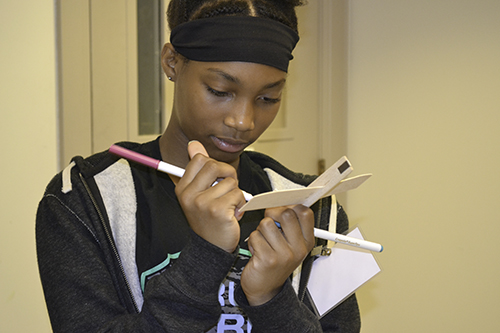 An I-STEM camper making a balsa wood glider during Aerospace Day.
In fact, Wroblewski says that much of what kids believe about space flight is based on what they've seen in movies and on TV and "not so much on the technical details," she admits. "An event like this makes it more realistic, so that when they're thinking about careers, they have a better grasp as to what it actually is."
More importantly, Wroblewski says these types of events show them that they have what it takes to be engineers, refuting "pre-conceived notions like 'I can't do that because I'm not smart enough,' because they've experienced that they are smart enough to do it. It's exciting and fun that they can achieve something as opposed to not knowing whether or not they could."
Illini Aerospace Outreach (IAO) works to help nearby students who may have an interest in aerospace to further their knowledge and interest in science-related fields. Many students do not know that aerospace engineering encompasses both aircraft and spacecraft. The outreach programs developed by IAO work to raise interest.
Elijah Chen, IAO's president, has been with the organization for three years. It is his job to plan and organize the outreach events that IAO does, which are mostly at local elementary and middle schools, but also at high schools.
"We have projects that teach about rocketry, wind turbines, forces on an airplane and jet engines. We are currently doing a rocket project with some students from Champaign Centennial to build a rocket that will be ready for the AIAA (The American Institute of Aeronautics and Astronautics) rocket race at the Engineering Open House," Chen said.
Chen said that he enjoys going to the schools and seeing how the younger kids always greet the projects with enthusiasm and excitement. The students are eager to learn about aerospace and IAO is eager to share their projects.
Elle Wroblewski, a Ph.D. candidate in aerospace, is the vice president of IAO. She devotes her time to working with the community and making sure IAO is involved in meaningful projects.
"We have a variety of portable, hands-on projects that students K-12 can build and test, and in doing so, learn something about the fundamentals of aerospace engineering," Wroblweski said.
Other than bringing projects to schools, IAO is contacted with other requests as well.
"We are sometimes approached by other organizations to help out with their outreach opportunities, especially when they need something different. We have been contacted by some teachers as well for science fairs and small after-school programs," Chen said.
Students who have been exposed to IAO's various outreach projects or something similar in their own school districts have all been extremely optimistic about aerospace.
Peter Catizone, a seventh grader from Naperville, has been exposed to various programs that are similar to IAO's. Catizone was unsure about what aerospace included before he was presented with projects and got to see things like real jet engines.
"The projects I was able to see really caught my interest — I didn't even know what aerospace engineering was and then I saw all these projects and realized how cool it was," Catizone said.
IAO tries its best to cater to students interested in both the aircraft and the spacecraft aspects of aerospace.
"We design airplanes, rockets, satellites, and UAVs (unmanned aerial vehicles) while having fun. As an organization, we try to have projects that show both sides of aerospace; however, most of our projects are air-related since we have mostly aircraft members," Chen said.
IAO aims to attract students like Catizone into all science, technology, engineering or math (STEM) fields. Chen said his organization's goal is to make students excited about these topics.
"It was so cool to learn about aerospace through a program that came to my school — I definitely want to look more into it for the future," Catizone said after he attended an outreach event at his school.
The IAO recognizes the importance of getting kids involved early-on with STEM programs, which is why they mainly do outreach with younger students in elementary or middle school. IAO believes it is never too early to start exposing students and peaking their interests in really amazing projects.
Wroblewski is currently involved in a project leading an after school enrichment program at Yankee Ridge Elementary School. She explained that other than this program, which she is directly involved with, IAO has been able to form partnerships with other groups around campus to spread their message and engage more people in aerospace.
It is important to break down any stigmas around STEM fields and to encourage anyone to explore whatever might interest them in this field.
"If anyone wants to learn more about aerospace, they should come to the Engineering Open House, where all of the aerospace RSOs have something to share. Most importantly, come to IAO's exhibit where we have real jet engines that have been used and many other small projects that will get anyone excited about what we do in aerospace engineering," Chen said.
IAO continues to make aerospace less intimidating and a more reasonable task for students.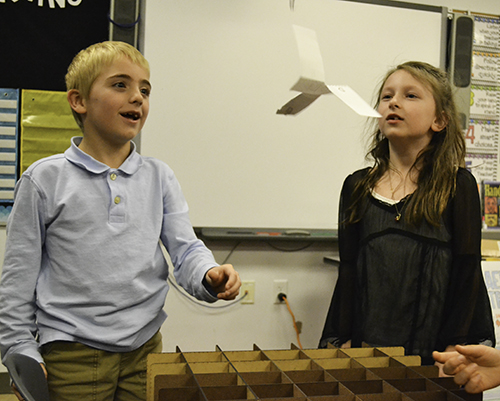 Two students enjoy the flight of a fan copter during a recent IAO outeach at Booker T Washington STEM Academy's Family Engineering Night.
December 6, 2016
As its name implies, Illini Aerospace Outreach (IAO) is all about Illinois Aerospace students sharing their love of aerospace engineering with local students. IAO's goal? To pique students' interest in aerospace—or STEM in general. While IAO members do numerous outreach events themselves, the organization also serves as the main point of contact for organizations and schools seeking outreach from one of Aerospace Engineering's numerous RSOs (Registered Student Organizations). IAO's third job? To babysit a huge, Rolls Royce Concorde airplane engine.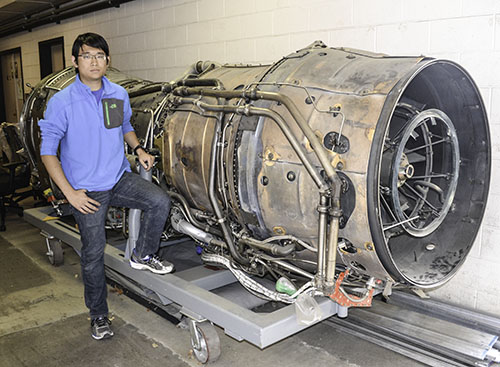 Elijah Chen, president of the Illini Aeriospace Outreach, next to the business end of Aerospace Engineering's big Rolls Royce Concorde engine.
IAO was begun three years ago when Rolls Royce (bet you thought they only made expensive cars!) donated a Concorde engine to Aerospace. So the organization was created to not only be in charge of the engine, but to show it off, making sure that plenty of eager young students got to see it (but not necessarily touch it!) at events such as EOH (Engineering Open House) or tours of Talbot Lab. However, it's not just the younger students who learn from the engine; it also facilitates the instruction of Illinois Aerospace students, who study it during different classes.